Welcome to Stouder Chiropractic
Your Troy Chiropractor
Call us at (937) 335-8534 today.
For more information or to schedule an appointment with our Troy chiropractor, call (937) 335-8534 today!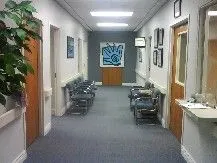 At Stouder Chiropractic we offer a friendly office with treatment for patients ranging from pediatrics to geriatrics. Chronic problems, sports injuries, auto accident and work related injuries are all welcome and treated.
Dr. Myers is a Worker's Compensation Certified Chiropractor. We accept most major medical insurances, personal injury, Medicare and Medicaid. Cash payment options are also available.
Stouder Chiropractic serves the people of Troy and the surrounding communities including West Milton, Tipp City, Covington, Piqua, Laura and Pleasant Hill as well as Miami, Montgomery, Darke and Shelby counties.
For a Free Consultation with Dr. Ed Myers of Stouder Chiropractic please call 937-335-8534 to set up an appointment.
Dr. Myers is available for health fairs, back saftey programs, and safety lectures at local organizations and businesses. Please contact our office regarding these programs.
Dr. Richard E Myers
Troy Chiropractor | Stouder Chiropractic | (937) 335-8534
1100 Wayne St Ste 1460
Troy, OH 45373 3050